Last time I posted a chart about Dow was back in October 2, 2018. The chart is like this.
What I said in the post worked out pretty well.
Here is an update of the same chart.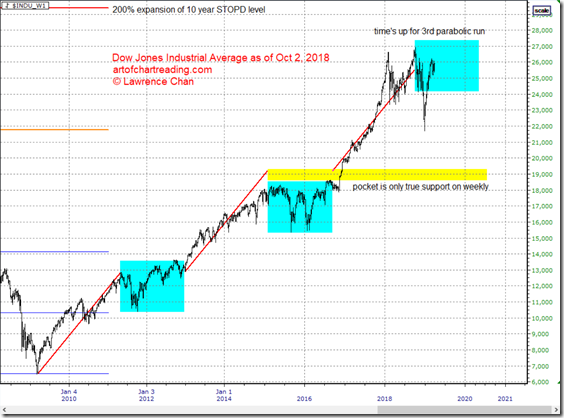 Notice the sharp drop ended abruptly where – the 100% expansion level (orange horizontal line).
So what can we expect from here?
Several scenarios can play out. All of them bearish.
First, given the sharp drop, a potential Adam and Eve formation is in the making.This means Dow can continue to drift higher including a retest of the all time high but it will ended up selling off sharply and likely to break the year 2018 correction low.
Second, if a serious sell off starts in 2 week (early to mid April 2019), it will be the second leg of the correction started in year 2018. In this case, a push down to below 21000 is reasonable.
Third, a higher high against the all time high that fails to stay above that on weekly and monthly closing basis. That will trigger massive unloading by the institutions since their economic models already told them to reduce exposure.
Another reason why mid April is important to watch out for – the tax filing deadline for which retail buying into the stock market may finally end by then.
Personally, I am leaning more towards the first scenario since there are way too many market participants were left behind. The momentum of the higher timeframes (monthly, yearly) will continue to play a role in supporting the market from short term sell pressures. Thus even if we get some selling from mid April, it will be stopped abruptly, again.