Are the tweets from Trump a well timed effort to pop the market higher right before the mid-term election? I will let you decide.
Following is a 30-minute chart of Nasdaq 100 ETF (QQQ).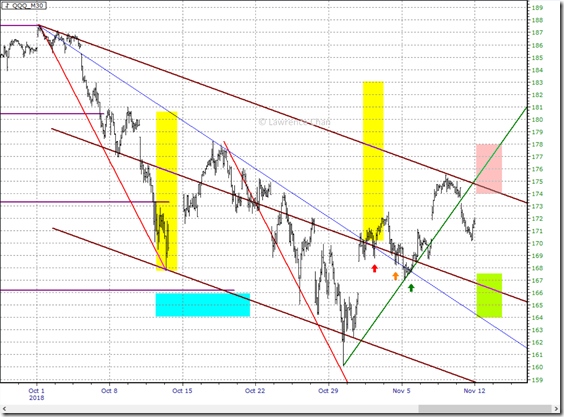 Red Arrow Nov 1st around 10:15 am ET Trump tweeted about US-China Trade. US Stock Market took off. And I can no longer find that tweet.
Orange Arrow. Nov 2nd around 2:30 pm ET Trump tweeted again on US-China Trade when both US and China officials denied what his says. I cannot find this tweet either.
Green Arrow Nov 5th all morning rumors and then by 3:00 pm ET, announcement of polls showing GOP was leading.
All three attempts are done right at the moment that QQQ was about to flush lower. Much lower.
Because of the way the market being affected was so subtle, majority of the people who are not close enough to the markets are not aware of the subtle change in the dynamics. I am not going to name names but you all know who they are.
Short-Term Outlook
So what to expect from here.
1. As long as Friday low holds up, the red zone above will be in play and could happen very quickly.
2. Pushing into the red zone first without touching the green zone below, if resulted in a close below that, will point to another flush lower to the green zone eventually.
3. A very strong support zone is now built at the green zone below. Any selloff getting into that on the first try can lead to explosive rallies.
The whole situation with such wide target / action areas was the aftermath of the forced change in market direction.
Originally I hoped that we will have a calmer market (i.e. VIX < 15) after the election. Well we do not always get what we hope for, do we?
The messy swings will likely continue for at least a few more months.